Over the past five years, Australia experienced a massive boom in international student numbers, whereby the number of student visas on issue ballooned by around 200,000 to half-a-million as at the end of 2018: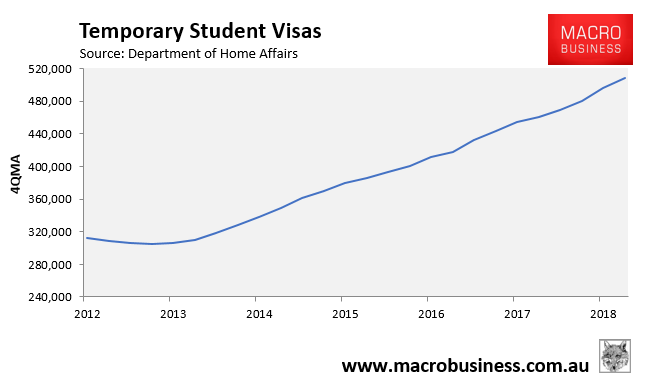 As shown in the next chart from The ABC, this international student growth has been driven by the Chinese, whose numbers have surged from around 95,000 in 2015 to 150,000 as at 2018. Chinese students also accounted for around $11 billion of Australia's $32 billion in education export earnings in 2018: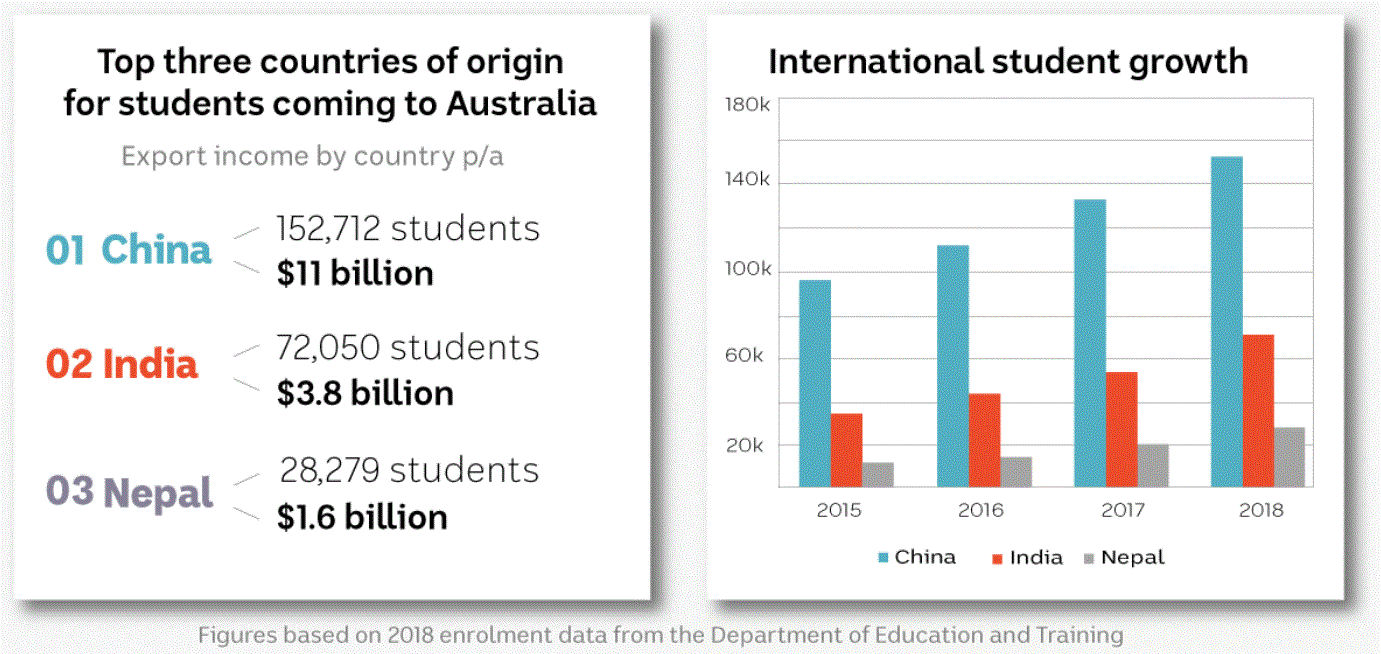 Recently, we have received explicit warnings that Chinese students numbers have peaked and will likely fall into the future.
Last week, The Australian reported that "the highly lucrative six-year boom in Chinese students is over":
Ahead of the release of official figures, a senior Department of Home Affairs official briefed universities last week telling them that visa applications from Chinese students were flat…

The flattening out in numbers of Chinese students starting courses is not yet visible in the monthly data issued by the federal Department of Education and Training.

The March figures, which will give the full picture of international student enrolments this year, are not yet available.
Whereas University of NSW Professor, Ian Jacobs, recently warned that Chinese student numbers will decline over the coming decade:
"They are getting more universities, and those are getting much better quality, very rapidly," said Professor Jacobs. "The Chinese government understands education is everything if they are going to be the high tech country they aspire to be."

"My assessment [is] over a 10-year period, [Chinese students] will gradually decrease. We are already starting to see a slight decrease in the number of undergraduate students from China as the opportunities increase.
March's overseas arrivals and departures data from the Australian Bureau of Statistics (ABS), released on Monday, supports these assessments. It showed that short-term arrivals from China declined for nine consecutive months, including both students and tourists. Moreover, arrivals in March 2019 were lower than August 2017: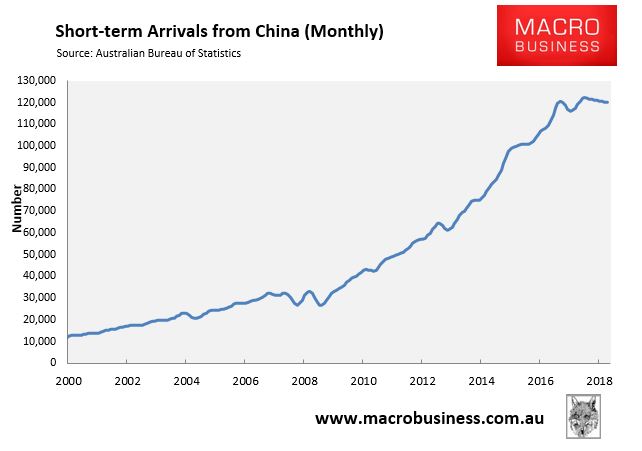 There are a variety of possible reasons why the flow of Chinese students and tourists has stalled.
As noted by Ian Jacobs above, China is increasing investment in its own universities and lifting its standards. At the same time, Australian university standards have plummeted, as highlighted in last week's Four Corners expose, which has no doubt eroded the prestige-value of an Australian degree.
Political tensions between Australia and China could also be reducing the flow of Chinese students and tourists. China may also want to keep more of both at home to prevent the outflow of capital and protect the value of its currency.
Increased competition for Chinese students from other Anglo nations could also be having an effect. Last month we learned that the Canadian Government plans to expand its presence overseas in order to significantly increase the volume of international students studying in Canada from 572,415 in 2018. The UK Government is also seeking to lift international students numbers by offering more generous work rights.
Unlike with commodities, Australia has no natural advantage in university education. Therefore, increasing competition from universities abroad (including from China) will make it increasingly difficult for Australia to maintain Chinese student numbers.
The policy response so far has been to pivot to lower quality students from Indian and Nepal, where instances of plagiarism, academic misconduct, and students failing their courses are more common. And with this pivot, Australian university standards will be lowered even further.
The response for tourism is anybody's guess.